The railway recruitment board conducts different national level examinations to recruit eligible and skilled persons for the various available posts. Majority people want to get a government job in the railway sector because of the additional perks the industry offers. Our RRB coaching in Delhi has prepared many students for the different RRB examinations, and most of them cleared the test with flying colors.
If you want to stay a step ahead of other applicant's, then enroll in a reliable and renowned coaching institute for Railway (RRB) in Delhi today. The exam pattern, syllabus, examination time, tips and tricks to solve problems in less time are all different for different examinations.
Our coaching classes for RRB in Delhi have highly experienced teachers that have been preparing students for the government exams for years. With our professional guidance and your hard work, you are sure to clear the examination.    
Sarkari Exams has opened its Railway Coaching in Delhi for guiding students and providing them deep knowledge about the Railway's examination pattern and the recruitment process. Necessary guidance is provided by experienced and highly qualified teachers as experts can provide in-depth knowledge about the field and can also tell better about how to prepare for railways examination and can also provide tips for the railway examination.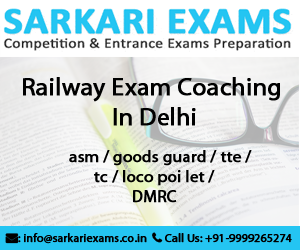 Indian railway is the second largest railway network after China and thus also plays an important role in the Indian Transport Industry and Indian Economy. More than 60% of Indian Public travels through the Indian railway's network and thus it is very important public transport.
Indian Railways recruits a large no of people every year in different categories. It has been divided into 16 different zones which are headed by General Manager which are further divided into Divisions which is headed by Divisional Manager.
Best Railway RRB Coaching in Delhi
Sarkari exams guide the aspiring candidates with the best-in-class knowledge that helps them in gaining excellence in their endeavor towards making the dream true of accomplishing a renowned position in the Indian Railways. Our Railway coaching institute in Delhi is molded with qualified faculty who puts in their hardcore efforts in shaping the career of the aspirants.
During complete coaching sessions, special focus is imparted on classroom training along with verbal communication that helps in dissipating all the doubts countered by the students during their preparation module.
We implement well-planned strategies and apply them to the well-being of the aspirants by making them competent to be a personnel owing the expertise in detailed problem-solving.
Post-applied-for in the Railway:
Posts in the Railways have been divided into four categories:
Category A
Category B
Category C
CATEGORY D
Recruitment in Category A, B & C has been done through Civil Services examination and Combined engineering services and recruitment in Category D for various posts is done through various railway recruitment boards formed all over the country.
Eligibility Criteria:
Applicants applying for the various posts in Indian Railways must carry the following eligibility criteria:
Age: prescribed age limit is 18-32 years.
Education: Candidate must acquire the degree from a recognized university or equivalent. For some posts, typing proficiency in both Hindi and English is essential.
Exam Pattern For railway RRB Exam:
Railway exam pattern is followed with a single stage computer-based test that goes well with detailed document verification. Also, for some posts, typing test is taken to ascertain the eligibility of the candidate.
We provide best coaching institute that provides excellent coaching classes with quality study material, tests series., experienced faculties, regular classes doubt classes, group discussion and many more.offers best Railway coaching in Delhi for crack your exam.
Selection Process :
Standard of examination shall be like that of direct recruitment conducted by RRB.
The selection will be made strictly as per merit in the written examination.
There shall be negative marking in written examinations and 1/3 of the allotted marks for each question shall be deducted for every

wrong

answer.
Four

Aptitude test

for the post of ASM will be conducted for the

candidates

shortlisted as per merit in the written examination.
Shortlisted candidates will be called for

verification

of their original documents.
The date, time and

venue

of the written examinations will be fixed by RRC and will be intimated at the address for communication to the eligible candidates by post. Request for postponement of the written examination or change of venue will not be entertained under any circumstances.
The candidates recommended for

appointment

will have to pass requisite medical fitness test(s) conducted by the Railway Administration to ensure that the candidates are medically fit to carry out the duties connected with the post
Join now the best railway RRB coaching institute in Delhi for the better result in railway exam.