Sarkari Exams is indulged in offering result oriented best CLAT coaching in Delhi to the aspirants looking to get admission in law institutions. Our coaching is molded with interactive top class study material prepared after a deep research over the current syllabus and exam patterns followed with regular mock tests that leads towards offering a deep insight of the upcoming final exam to the aspiring candidate.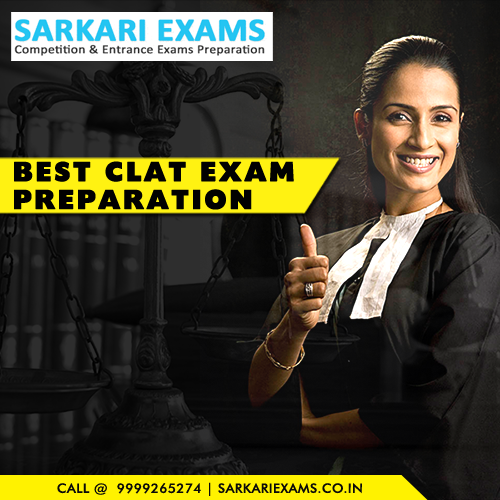 CLAT (Common Law Admission Test) is an all-India entrance examination that leads to admission to under-graduate (LLB) and Postgraduate (LLM) degrees offered by 19 National Law universities. The first CLAT exam was conducted in the year 2008 by National Law School of India University (NLSIU), Bangalore.
Our Clat Coaching Classes in Delhi lets the student's clears up all their doubts comprising exam preparation and necessary updates regarding the exam pattern.
At Sarkari Exams, students will find the intellectual setup of teachers and mentors who will guide the applicants with the best of methods and ways to score better in the written examination of CLAT. We provide the highest number of faculty members who will depart quality education advices to the aspirants and prepare them for their career goal.
We offer CLAT coaching by using the well-researched course modules and practice papers. We also provide the students with the frequent mock test paper facility that will help them analyze their current learning stand. We also analyze regular performance made by the students followed with the corrective guidance for better improvement.
We believe in giving personalized attention on the students thereby arrange doubt clearing sessions on a frequent basis. We also work on improving a candidate's personality as an individual and arranges personality development classes for the same on frequent basis.
Important dates of CLAT 2018 Exam
Description
Date
Application form release
1st January 2018
Last date to submit the application form
31st March 2018
Admit card release
20th April 2018
Date of examination
13th May 2018 (3:00 PM to 5:00 PM)

Uploading of answer key
15th May 2018
Representation, if any, relating to exam, questions or key
16th – 18th May 2018
Date for uploading the amended answer key (if required)
26th May 2018
Result & merit list release
31st May 2018
Release of first indicative seat allocation list
7th June 2018
Counselling fee payment & exercising options
8th – 12th June 2018
Release of second allotment list
16th June 2018

Date for payment of

counselling fee

17th – 19th June 2018

Date for locking of allotted seats after exercising option for shifting or withdrawing from the admission process against the second allotment list

17th – 19th June 2018

Last date of withdrawal from the Admission

Process

19th June 2018

Publication of the third allotment list

24th June 2018

Payment of full fees by the candidates whose name appear for the first time in the third allotment list to the allotted Universities

28th – 30th June 2018
Receiving status of admissions from the participating NLU (s) in the CLAT office
4th July 2018
Closer of admission process
6th July 2018
Eligibility Criteria:
UG courses: Applicant applying for the undergraduate courses must comply with the following:
Age: There will be no upper age limit for UG Programme in CLAT Entrance Exam.
Education: 12th class degree or equivalent education with minimum of 45% marks will do the needful.
PG courses: Applicant applying for the post-graduate courses must carry the following eligibility:
Age: No upper age limit.
Education: A LLB degree or equivalent education from a recognized university with minimum 55% marks.
CLAT Exam Pattern:
Total Marks: 200
Number of Questions: 200
Duration: 2 hours
Negative marking for every incorrect answer 1/4th marks will be cut.
Examination pattern for CLAT:
Elementary English               – 40 Marks
General Knowledge               –  50 Marks
Elementary Mathematics   –  20 Marks (10th Level)
Legal Aptitude                        – 50 Marks
Logical Reasoning                 –  40 Marks
Question Pattern for CLAT
Multiple Choice Questions  – 50 marks
10 Short type questions –  50 marks
Two Essay type Questions – 50 Marks Each
Why choose us?
We are the pioneer in the stream of law entrance coaching that offers the high quality and interactive guidance to the law aspirants.
We offer the crash course for CLAT exam preparation and let the students prepare for the entrance exam within no time and with great confidence to clear the same.
We offer the top coaching classes for CLAT with the perfect mix of effective study modules and researched practice papers that are guided under the strict supervision of the expert faculty.
Our highly dedicated and experienced faculty team lets us rule over the minds of the students who are keenly interested in enrolling for a great career in the law stream. We manage a personalized approach in guiding the students at every stage towards their success path.
Subsequently, CLAT (Common Law Admission Test) Entrance Examination-2009, CLAT-2010 and CLAT-2011, CLAT-2012 have been conducted by NALSAR-Hyderabad, NLIU-Bhopal, WBNJUJS (Kolkata) and National Law University -Jodhpur, respectively. The Common Law Admission Test -2013 is being conducted by Hidayatullah National Law University (HNLU), Raipur.
Our CLAT coaching institute in Delhi encompasses a comprehensive approach to counter the curriculum designed for CLAT entrance and make sure the students attain complete and detailed perspective of every topic covered. Our experienced faculty serves the major help through providing quality guidance and personalized attention.
Here are the Participating National Law Universities for the Common Law Admission Test (CLAT).
National Law University (NLSIU), Bangalore
NALSAR University of Law, Hyderabad
National Law Institute University (NLIU), Bhopal
The West Bengal National University of Juridical Sciences (NUJS), Kolkata
National Law University, Jodhpur (NLUJ)
Hidayatullah National Law University (HNLU), Raipur
Gujarat National Law University (GNLU), Gandhinagar
Dr. Ram ManoharLohia National Law University (RMNLU)
Rajiv Gandhi National University of Law (RGNLU), Patiala
National University of Advanced Legal Studies (NUALS), Kochi
Chanakya National Law University (CNLU), Patna
DamodaramSanjivayya National Law University (DSNLU), Vishakhapatnam
National Law University Odisha (NLUO), Cuttack
National University of Study and Research in Law (NUSRL), Ranchi
National Law School and Judicial Academy, Assam (NLUJAA), Guwahati
The Tamil Nadu National Law School (TNNLS), Tiruchirappalli
Maharashtra National Law University (MNLU), Mumbai
Maharashtra National Law University (MNLU), Nagpur
Maharashtra National Law University (MNLU), Aurangabad
We provide coaching for the Law Entrance test i.e. best coaching for CLAT (Common Law Admission Test) in Delhi and tell you how to prepare for CLAT.
Sarkari exams offer best CLAT Coaching in Delhi for exam preparation with well-experienced teachers, good material, test series, doubt classes and many more. join now for best result in CLAT exam 2017.
Join us for best result in CLAT Exam 2017, Call Now.