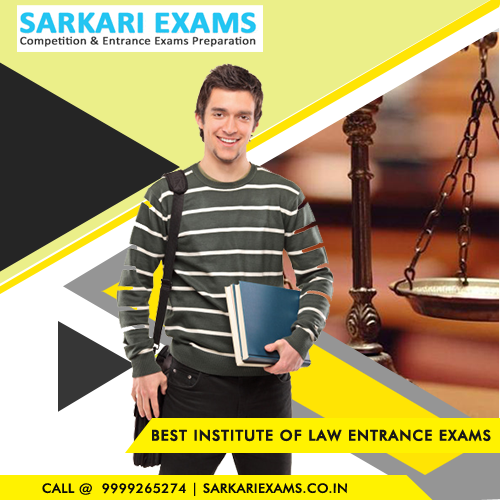 Welcome to Sarkari Exams, the premier establishment that aims to deliver high quality and    quantifiable coaching aptitude to the applicants preparing for getting into the Law stream. Our Law institute in Delhi are designed to give the applicants verge over the growing competition in the field of Law.
Sarkari Exams providing best faculties, Test Series and study materials  for Law Entrance Exams preparation in Delhi, Here you will get free Monthly E-Magazine and 200 MCQs every months for better current Affairs of Law Entrance Examination preparation. We have online and offline both facilities for Law Entrance Examination test Series  as well as we are also providing free of cost weekly and topics wise test for for best preparation of Law Entrance written Exams in Delhi. Now you can ask for demo classes for see the difference from other centre of Delhi. Our expertise are unique and rich Experience for Law Entrance test preparation in Delhi. Sarkari Exams is a well known name for Law Entrance exams preparation in Delhi, Here you will get free android application for better preparation of Law Entrance Exam by which you can get best NLUs of our country.
We prepare the students with the motive to make them competent to clear the Law entrance exam conducted by various universities. Either student want to pursue for BA LLB or LLM, we guide the students with the right study material and necessary guidance. We provide the applicants with the experienced faculty members who deliver them LLB entrance to clear every possible doubt countered by the students during their learning program.
We aim to deliver 99% success rate to the applicants in their endeavor to enter into the desired law program. We believe in making the learning interactive to benefit the students in long run.
On a state, national and university level LAW entrance tests are controlled and managed for getting the admission in an assortment of law courses like LLM and BA LLB etc. Proper and right set of information regarding the LAW Entrance Exams are available on the website and our top class institute Sarkari exams offers updated information about the same.
Our institute has so many experts who have couple of years of experience in laws so that trainers get avail right set of education from them. We do not intend only to train them; our idea is to make them so expert so that they get the government job easily.
Focus on preparing the candidate for verbal interview is also carried out by our faculty team along with preparing them for the written test. However Viva is not a compulsory process for railway exams. Only for certain category does the candidate need to appear for a verbal test.
Candidates trust our institute because it works on enhancing their knowledge and make them capable to crack the exam in all possible ways.
ELIGIBILITY CRITERIA:-
Age Limit: Candidate must be less than 20 years old as on 1st July 2019 and 22 years old in case of SC/ST.
Academic Qualification: The candidate must have passed 12th or any equivalent examination.
WE ARE DIFFERENT FROM OUR COUNTERPARTS IN:
Experienced faculty availability
Motivational classes
Neat & Clean Premises
Extra attention given to the needy students
Flexible timings according to students suitability
Standard study programs
Updated education is imparted
We are among the top 10 institutes for imparting comprehensive and specialized training program to aspirants appearing for government job exams. Be it DU LLB, CLAT, SET, AILET or any other law entrance exam- our law entrance coaching in New Delhi prepares law aspirants for all the different law entrance tests. A diligently designed study material is also provided to all students for the different exam sections. It helps them to cover all the topics that are relevant for the upcoming law entrance examination. The reason why our coaching institute for law entrance exams is included among the top 10 is because of our ability to constantly maintain an extraordinary student success rate.
Sarkari Exams Coaching Classes is offering special batches to the students for  Law Entrance Written Preparation at low cost. Sarkari Exams Coaching Classes provide Monthly Current Affairs MCQs as divided in 4 tests including 50 questions each test it means total MCQs Monthly Question are 200 on Latest Exams Pattern of Law Entrance and Monthly Current Affairs E-Magazine in PDF forms which are totally free on our website and Android App which is also available free on Google play store. Current Affairs are very important for Law Entrance written Exams. Sarkari Exams Coaching Classes is working in the same Educational field of India, it would be great if you could call us for more details for Law Entrance Exams.
Sarkari Exams Coaching Classes are pleased to introduce ourselves to you as a old Brand of India for Law Entrance Exams Preparation in Delhi. Sarkari Exams Coaching Classes is a leading Brand specially for Law Entrance Competitive examinations Preparation in Delhi. We provide the best Section Wise Test Series for Law Entrance Exams curated by ours Experts. The Law Entrance Mock test series are based on the latest pattern and syllabus which give students hands-on experience for appearing in exams of Law Entrance. We have more than 500 test series including Topic wise, weekly and previous years of Law Entrance Examination. These tests increase accuracy and speed of the students to crack Law Entrance Examination. Our Study Materials are up to date as per New pattern of Law Entrance written exams. Now you Google searching is ended here as which is the Best  Law Entrance Coaching in Delhi? Sarkari Exams Coaching Institute Is the Best Coaching Institute for Law like CLAT Entrance Exams Preparation in Delhi.
Our Law entrance examination coaching institute in Delhi focuses on teaching the best to the students and helping them to overcome their weakness and make them confident and motivated to study hard and clear every law exam they appear for. Various crash courses related to law entrance exams are also provided
WHY SARKARI EXAMS
 Regular Classroom by experienced faculty.
Special Weekend classes for weak students
Daily assessments.
Online and offline test series for free.
Timely syllabus completion for better revision.
Result oriented coaching classes
Study materials
Free Video Lecture.
Free Current Affairs Magazine