Sarkari Exams is the premier institute offering a deep insight into the BBA entrance exam covering the most prominent questions and topics. We offer Best BBA coaching in Delhi propounding a comprehensive study material mated with online test series under the strict supervision of experienced and expert faculty.
BBA (Bachelor of Business Administration) is a graduation degree concerning the commerce and business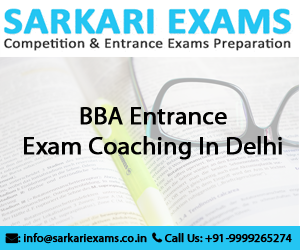 administration that helps a candidate in exploring the vibrant world of corporate culture. The curriculum of BBA entails into offering the candidate with a deep perspective of company's functional areas.
We follow the policy of surpassing unique personalized attention to the each-n-every student carrying the coaching for BBA entrance.
Admission to BBA Entrance is similar to BSC, B. Com. As all are graduate-level courses, admission to the course is done on the merit base.
At Sarkari Exams, we specialize in handling the entire course and exam related queries raised by the students. We aim to deliver high quality and result oriented career guidance to the aspirants and prepare them well for the competitive era.
We provide the students with the effective and interactive BBA coaching in Delhi that will help the students in clearing the exam with great score. We provide regular classroom sessions along with frequent practice sessions which will depart a close idea of the upcoming exam to the students.
Our coaching classes are accompanied by the regular doubt clearing sessions too that will help the applicants in clearing their doubts then and there. We aim to deliver personalized attention to the weak students to make them scale-able and achieve their aim in life. We also work on personality development issues of the applicants to let them compete against the competitive zone of admission interviews.
If you are planning to work at a high managerial level position in a corporate, then having a valuable degree in the field of business administration is a must. The best way is to start early, as it helps the students to gain insights into the business world from the starting stage only. The BBA or the Bachelors of Business Administration is a graduate-level course that prepares students for the upcoming business challenges.
Every year, many students apply for the BBA courses offered by different renowned institutes. To increase your chances of getting selected, make sure you get prepared by the best BBA coaching in Delhi. Our best coaching institute for BBA in Delhi prepares students for both the written and interview parts, so you can always rest assured of your preparation with us.
You can visit our coaching classes for BBA in Delhi today to get detailed information on our offered courses.
Eligibility For BBA Entrance Test:
Only those applicants who have passed the 12th standard can apply.
Admission will be on merit basis.
Minimum 55% is a must.
Minimum age is 17 years. Some colleges may keep a maximum age limit of 25 years.
Syllabus for BBA
Our BBA entrance coaching institute in Delhi covers complete syllabus of BBA entrance like General Awareness, Quantitative Aptitude, Logical Reasoning, and Verbal Ability & Business Awareness.
BBA 2017 Exam Pattern
| | |
| --- | --- |
| SECTION | WEIGHT OF SECTION |
| Aptitude relating to the field of Management and for Communication Skills | 25 percent |
| Logical and Analytical Ability | 25 percent |
| General Awareness | 25 per cent |
| English Language & Comprehension | 25 per cent |
Selection Process
If the candidate chooses to pursue the course through correspondence then there no selection process, except being eligible for the course.
The admission through Entrance Exam culminates in a final evaluation of the candidate on the basis of following:
| Criteria | Weight (%) |
| --- | --- |
| Qualifying Examination | 50 |
| Entrance Test | 40 |
| G.D. & P.I | 10 |
Sarkari Exams provides online test series for all the competitive and entrance exams. BBA Online test Series. We have also started our centers at Mumbai, Maharashtra along with Delhi. SO join best BBA Coaching Classes in Delhi, India and see the growth in a regular manner.
Leading BBA Coaching Call us today and book your seat, refer Sarkari Exams website.