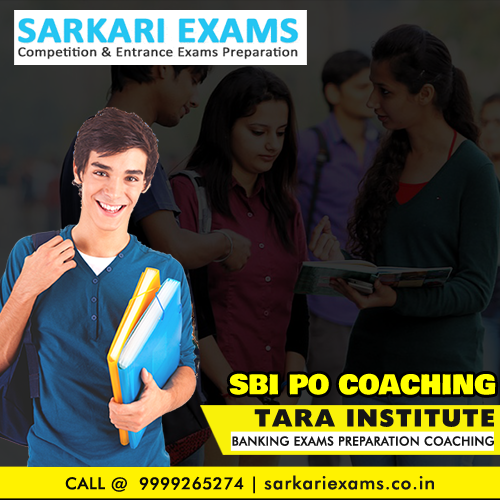 Sarkari Exams is the leading institute that offers Best Bank PO Coaching in Delhi and prepares the aspirants for the final examination along with the interview sessions. We carry the highly qualified and experienced faculty specialized in the banking sector to guide you with complete detail about the exam and interview preparations. Sarkari Exams providing best faculties and study materials for Bank PO Exams preparation in Delhi, Here you will get free Monthly E-Magazine and 200 MCQs every months for better current Affairs of Bank PO Exams preparation. We have online and offline both facilities for Bank PO test Series in both languages Hindi and English as well as we are also providing free of cost weekly and topics wise test for for best preparation of Bank PO written Exams in Delhi. Now you can ask for demo classes for see the difference from other centre of Delhi. Our expertise are unique and rich Experience for Bank PO test preparation in Delhi.
We offer best success rate to the aspirants and prepare them well with the help of a thoroughly researched learning program mated with regular mock tests and online test series. We keep monitoring the performance of every student and impart a personalized attention to weak students.
What is Bank PO?
A Bank PO (Probationary Officer) Exam is the starting recruitment level in the bank officer's cadre. Bank PO has one or two year of probation period as per bank. During the probation period Bank PO has been oriented to various operations of the bank like Loans & Advances, Credit rating, Foreign Exchange, Risk Management, Treasury, IT & Marketing etc.
In the public sector bank vacancies in the officer cadre are filled internally through the promotion of the clerks. And also by the direct recruitment of the officers. Nowadays, to overcome the shortage of manpower public sector banks are required to recruit the officers externally and for this Bank PO examination has been conducted.
A Bank PO can be asked to do any work during its probation period. After the confirmation he/she can be asked to do have routine work like scrolling, posting, customer complaints handling, advances that is related to banking work. They are trained for marketing, billing, finance, accounting & Investment.
Eligibility Criteria
Nowadays, there is a good career progression in the Bank PO Job as now many of the public sector banks has their branches in abroad and thus the person may get the chance for working in abroad also.
To become Bank PO you should crack the entrance exam and Personal Interview & Group Discussion. To apply for Bank PO you should be a graduate in any discipline from any UGC Recognized University in India. And your age should be between 21 years to 30 years.
Best Bank PO Coaching Institute in Delhi
The Bank PO exam takes place in two stages i.e. Objective type and Descriptive type. In the Objective type paper consists of questions from English, Reasoning, General Awareness, Quantitative Aptitude and Computer Knowledge. In Descriptive type paper of Bank PO you will get question from English Composition like Essay, Précis, and Letter Writing etc.
The bank PO exam is for officer level and has Graduation level as the qualification requirement. Both the exams open avenues to join any of the PSU banks provided one gets a good score. Vacancies are quite a few for both but the competition is also fierce, and here comes the difference of right guidance. Our faculty backed by our online content leaves nothing to chance. We make sure that you get through with the best possible score. Our unbeatable track record seconds us in our claims.
Sarkari Exams Coaching Classes is offering special batches to the students for Bank PO Written Exams Preparation at low cost. Sarkari Exams Coaching Classes provide Monthly Current Affairs MCQs as divided in 4 tests including 50 questions each test it means total MCQs Monthly Question are 200 on Latest Exams Pattern of Bank PO and Monthly Current Affairs E-Magazine in PDF forms which are totally free on our website and Android App which is also available free on Google play store. Current Affairs are very important for Bank PO written Exams. Sarkari Exams Coaching Classes is working in the same Educational field of India, it would be great if you could call us for more details for Bank PO Exams.
Sarkari Exams Coaching Classes are pleased to introduce ourselves to you as a old Brand of India for Bank PO Exams Preparation in Delhi. Sarkari Exams Coaching Classes is a leading Brand specially for Bank PO Competitive examinations Preparation in Delhi. We provide the best Section Wise Test Series for Bank PO Exams curated by ours Experts. The Bank PO Mock test series are based on the latest pattern and syllabus which give students hands-on experience for appearing in exams of Bank PO. We have more than 500 test series including Topic wise, weekly and previous years of Bank PO Examination. These tests increase accuracy and speed of the students to crack Bank PO Examination. Our Study Materials are up to date as per New pattern of Bank PO written exams. Now you Google searching is ended here as which is the Best  Bank PO Coaching in Delhi? Sarkari Exams Coaching Institute Is the Best Coaching Institute for Bank PO Exams Preparation in Delhi.
Why Sarkari Exams?
Regular Classroom by experienced faculty.
Special Weekend classes for weak students
Daily assessments.
Online and offline test series for free.
Timely syllabus completion for better revision.
Result oriented coaching classes
Study materials
Free Video Lecture.
Free Current Affairs Magazine