Welcome to Sarkari Exams, the leading coaching establishment that entails into offering quality guidance to the aspirants preparing for the recruitment exams of Government hospitals and Health & Medical bodies. We offer Combined Medical services coaching in Delhi to the aspirants applying for the post of medical practitioners and doctors in the most reputed Government hospitals. We are molded with sophisticated classrooms followed with highly interactive and well-researched study material that goes well with the regular mock tests and practice sessions along with doubts clearance sessions to depart a complete insight of the exam pattern to the aspirants.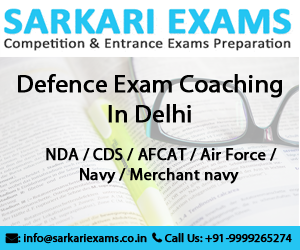 With our combined medical services coaching institute in Delhi, students can expect advanced training and practice schedule that leads them towards their future goal of capturing a recognized position in all State combined medical services. Our qualified and specialized faculty group adheres to serve the desired guidance level to the upcoming medical practitioners and doctors in the best possible way.
Important dates (Tentative)
| | |
| --- | --- |
| Publication of notification | 26th April 2017 |
| Commencement of application process | 26th April 2017 |
| Last date of application process | 19th May 2017 |
| Downloading of admit card | 3 week prior to Examination |
| Examination date (UPSC CMS 2017) | 13th August 2017 |
| Results declaration | September/October 2017 |
CMS Exam Pattern
Part I is written examination of 500 marks. The written exam for two objective papers is conducted as Computer based mode. You have to take the written examination in two papers, each carrying a maximum of 250 marks. Each paper is of 2 hours duration. There is negative marking of 1/3 of mark for each incorrect answer.
Paper
Section
Questions
Marks
Paper I

(2 hours)

General Ability
30
62.5
General Medicine
70
145.8
Paediatrics
20
41.7
Paper II

(2 hours)

Surgery
40
62.5
Gynaecology & Obstetrics
40
155.8
Preventive & Social Medicine
40
41.7
Part II is personality test carrying 100 marks of such of the candidates who qualify on the results of the written examination.
Computer Based Test
Till 2013, the written examination for Combined Medical Services Examination for two objective type papers was being conducted through the OMR sheets. However, from 2014 the UPSC has decided that the exam is to be conducted in Computer Based mode.
Selection process
The selection process of UPSC CMS 2017 will be completed in 2 stages- written test and personal interview. The qualified candidates will be called for personal interview round which will carry 100 marks.
What is combined medical services examination?
The UPSC conducts Combined Medical Services Examination every year to recruit medical graduates into a variety of Central Government Organizations and Services.
Educational Qualifications:
For admission to the Combined Medical Services Examination a candidate should have passed the written and practical parts of the final M.B.B.S. Examination.
Age Limits:
A candidate must not have attained the age of 32 years.
The maximum age limit prescribed above will be relaxable only in the following cases:
• SC or a ST: maximum five years.
• OBC: three years maximum.
• Jammu & Kashmir (Domiciled during the period from the 01.01. 1980 to 31.12.1989): five years maximum.
• Defense Services personnel : five years maximum
(Disabled in the operations during the hostilities with any foreign country or in a disturbed area and released as a consequence thereof)
• Ex-servicemen's including the Commissioned officer and ECOs/SSCOs who have served at least five years Military Service. And have been released (I) on completion of assignment otherwise than by way of dismissal or discharge on account of misconduct or inefficiency, or (ii) on account of physical disability attributable to Military Service, or (iii) on invalidment: up to a maximum of five years.
• ECOs/SSCOs that have rendered an initial period of assignment of five years of Military Service. And whose assignment has been extended beyond five years and in whose case the Ministry of Defense issues a certificate. That they can apply for civil employment and that they will be released on three month's notice on selection from the date of receipt of offer of appointment: up to a maximum of five years.
• Blind, deaf-dumb and physically handicapped persons: up to a maximum of ten years.
• The ad-hoc Doctors appointed after 1.10.1984 in the Ministry of Railways will be granted relaxation in age to the extent of the period of service rendered by them as ad-hoc Doctors in Railways, in the light of the Supreme Court's orders dated the 24th September, 1987. The ad-hoc Doctors claiming the relaxation should submit their applications for admission to the examination through the Ministry of Railways who will certify that the applicants are covered by the orders of the Supreme Court.
NOTE I
Cumulative Age relaxation for Combined Medical Services Examination:
SC, the ST and the OBC who are also covered under other clauses mentioned above will be eligible for grant of cumulative age-relaxation under both the categories.
Ex-servicemen eligibility for Combined Medical Services Examination: The age concession will not be applicable to Ex-Servicemen and Commissioned Officers including ECOs/SSCOs, who are released on own request.
NOTE II
Date of Birth Certificate:
The date of birth accepted by the Commission as in the Matriculation or Secondary School Leaving Certificate or in a certificate recognized by an Indian University as equivalent to Matriculation or in an extract from a Register of Matriculates maintained by a University, which extract must be certified by the proper power of the University or in the Higher Secondary or an equivalent examination certificate.
No other document like horoscopes, affidavits, birth extracts from Municipal Corporation, service records and the like will be accepted.
Once the date of birth is submitted in the Commission, no change is allowed subsequently (or at any other Examination of the Commission) on any grounds whatsoever.
Top combined medical services coaching in Delhi
Sarkari Exams is one of the renowned names among the coaching institutes offering quality educational coaching for a recognized post in the Government health and medical field. We offer systematically planned coaching program designed to fulfill a student's directives.