Welcome to Sarkari Exams, the most preferred place to get the potential guidance to assist you in your career path in order to become a server to one of the most credential part of Indian Army, i.e. Indian Navy. We offer navy coaching in Delhi to assist the students through various training and personality development program. Our experienced and expert teachers will provide the necessary guidance compiling upgraded knowledge and training to the aspirants to help them achieve the career growth.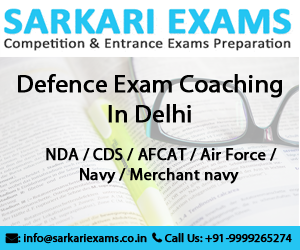 Our Navy coaching institute in Delhi keeps on maintaining the high standard of learning to provide supreme assistance to the candidates in reaping great returns from their endeavors embodied on the exam preparation. We apply the unique methodology into our teaching processes and followed it in collaboration with the frequent mock tests and practice sessions that entails into giving the student, a complete insight of the upcoming examination.
Eligibility Criteria
Marital Status: Unmarried Indian Male citizens are eligible
Nationality: Indian. Gorkha subjects of Nepal are also eligible for recruitment.
Age: 17-20 years.
Exam Pattern 2017
Physical Fitness Test
Qualifying in this Test is mandatory for enrollment. The standard of Physical Fitness Test is (i) One Mile (1.6 km) run to be completed in 7 minutes. (ii) 20 sit ups. (iii) 10 push ups.
Written Test
The Written Test will have four sections
Section I: English
Section II: Science
Section III: Maths
Section IV: GK.
The question paper will be bilingual and objective type and of 1 hour duration. The results will be announced on the same day.
Those who qualify will undergo Physical Fitness Test and Medical Examination. Those who are declared medically fit would be considered fully qualified and those who are declared temporary unfit will be required to appear for Review Medical on the stipulated date.
Performance in Written Examination, Computer Knowledge, Sports and NCC will be taken into consideration for the final selection. After enrollment candidates will be sent on Railway Warrant to Chilika (Orissa) for initial training of 24 weeks.
For Sportsmen: Outstanding sportsmen who have participated at National/State Level will have to qualify in the Sports trials in addition to written exam, PFT and Medical.
Training
24 weeks Basic Training at INS Chilka followed by 24 weeks professional training in the allotted trade in Naval Establishments all over the country. Branch/Trade will be allocated as per requirement of service.
Selection Procedure: It is a two phased selection process. First Phase includes aptitude test, picture perception and story making test. Second phase has Psychological tests, Group Activities, Personal Interview and complete medical examination.
What is NAVY?
Indian Navy is one of the essential part of Indian Army which fights in water or can say guard water border of India. Every year several applicants apply for various posts to be a part of the challenging stream of Indian Navy. Recruitment of sailors in Indian Navy is an application based and is carried out on the All India Merit on the basis of a Written Examination, Physical Fitness Test and Medical Examination.
How to Apply: 
Applicants can apply for varied posts in the Indian Navy by filling the form available over the internet. They can also type the same on a plain paper and then do the submission. Those who are planning to apply for more than one post need to file separate applications. Applicants need to fill in the form with necessary particulars and get them enrolled with the examination.
The various entries for recruitment of sailors are:
| | | | | |
| --- | --- | --- | --- | --- |
| Type Of Entry | Commission | Gender  | Age | Eligibility Criteria |
| Artificer Apprentice (AA) | Non Commission | Male | 17-20 | 10+2 with Physics, Chemistry  and Mathematics with 55% marks |
| Direct Entry Petty Officer  (Sports) – DEPO (Sports) | Non Commission | Male | 17-22 | 10+2 (Any Stream) |
| Senior Secondary Recruit (SSR) | Non Commission | Male | 17-21 | 10+2 with Physics & Maths |
| Senior Secondary Recruit (Sports) – SSR (Sports) | Non Commission | Male | 17-21 | 10+2 (Any Discipline) |
| Matric Recruit – MR Entry | Non Commission | Male | 17-21 | 10th |
| Matric Recruit (Sports) – MR (Sports) | Non Commission | Male | 17-21 | 10th |
| Musicians | Non Commission | Male | 17-21 | 10th |
| Non Matric Recruit – NMR Entry | Non Commission | Male | 17-21 | 6th |
| Non Matric Recruit (Sports) – NMR (Sports) | Non Commission | Male | 17-21 | 6th |