Sarkari Exams offers Central Police Force examination coaching in Delhi to the aspirants and prepare them well for the written examination. We own an experienced and proficient team of teachers who invest their hard work in clearing off the doubts countered by the students and guide them in the best way to enhance their confidence. Along with the effective and comprehensive study material, we initiate regular mock tests and solve previous years question papers to give the student a detailed insight of what they are going to face in the final round and in what manner.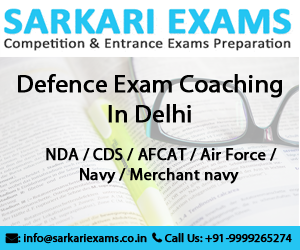 Our coaching institute for Central police force examination in Delhi provides the students with complete guidance over examination pattern and proper time management that helps them in gaining fruitful result at the end.
(A) Tentative Schedule
(i) Notification of Examination: May
(ii) Conduct of Examination: October
(B) Scheme of Examination
Written Examination

PAPER-I
General Ability and Intelligence (Objective Type)
250 Marks
PAPER-II
Essay, Precis writing and comprehension (Conventional Type)
150 Marks
PHYSICAL AND MEDICAL STANDARDS TEST
To be conducted only of candidates who qualify the written examination.
Interview for Personality Test
200 Marks
(C) Selection Process: Candidates will be selected based on performance in Written Examination, Physical Standards Test, Physical Efficiency Test, Medical Standards Test & Interview/ Personality Test.
CPF Recruitment:
The UPSC conducts Central Police Force Examinations every year to recruit Assistant Commandments (Group A) in Central Police Forces. Central Police Force is also known as Central reserve Police Force (CRPF).
Nationality
A candidate must be a citizen of India.
A candidate who is not a citizen of India can only be appointed if he/she has consent of the Central Government signified in writing.
Sex
Male candidates are eligible for appointments in all the five Police Force (BSF, CRPF, CISF, ITBP, and SSB), whereas the women candidates are eligible for CRPF and CISF only.
Age Limits for Central Police Force Coaching
A candidate must have attained the age of 20 years and must not have attained the age of 25 years.
The upper age limit prescribed above will be relaxable in the following cases:
Scheduled Caste or a Scheduled Tribe:up-to a maximum of five years.
Other Backward Classes:up to a maximum of three years.
State of Jammu & Kashmir (Domiciled during the period from the 1stJanuary, 1980 to 31stDecember, 1989: up to a maximum of five years.
Ex-servicemen: up to a maximum of five years.
Central Government Servants: up to a maximum of five years.
NOTE me:
Cumulative Age relaxation for Central Police Force:
Scheduled Castes, the Scheduled Tribes and the Other Backward Classes who are also covered under other clauses mentioned above will be eligible for grant of cumulative age-relaxation under both the categories.
NOTE II:
Date of Birth Certificate:
The date of birth is that entered in the Matriculation or Secondary School Leaving Certificate or in a certificate recognized by an Indian University as equivalent to Matriculation or in an extract from a Register of Matriculates maintained by a University, which extract must be certified by the proper authority of the University or in the Higher Secondary or an equivalent examination certificate.
No other document relating to age like horoscopes, affidavits, birth extracts from Municipal Corporation, service records and the like will be accepted.
Once the date of birth is recorded in the Commission, no change will be allowed subsequently (or at any other Examination of the Commission) on any grounds whatsoever.
Educational Qualifications for Central Police Force Coaching:
The candidate must hold a Bachelor's degree of a recognized University or posses an equivalent qualification.
Physical Standards:
Candidates must meet the prescribed Physical and Medical Standards for admission to Central Police Forces Examination (Assistant Commandants). The details are specified in the Scheme of Examination section.
NOTE:
Restriction on reappearance of candidates finally selected/ recommended earlier:
A candidate who has been finally selected on the basis of an earlier examination to the post of Assistant Commandants or in any of the forces participating in the Central Police Forces (Assistant Commandants) Examination will not be eligible to appear at a subsequent examination for recruitment of  the Assistant Commandants in the participating Central Police Forces.
Possession of NCC 'B' or 'C' Certificates:
Possession of NCC 'B' or 'C' Certificate is a desirable qualification. These qualifications will be given consideration at the time of Interview/ Personality Test only.
Best Central Police Force examination coaching in Delhi
Sarkari Exams is keenly interested in reaping maximum output from their teaching endeavors on the students appearing for the examination conferring Assistant Commandant Position. We make the student learn through the advance guidance provide by the mentors along with organized and systematic approach towards exam clearance and result attainment. We work on the mission to deliver guaranteed success rate through our coaching program.