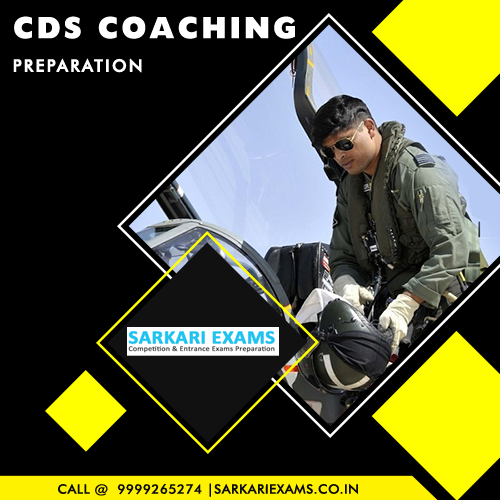 Sarkari Exams is the most experienced coaching institute that offers quality educational incentive in the form of CDS coaching in Delhi to the aspirants looking forward to make a successful career in Indian Armed forces. We follow the standard to make every student competitive enough to beat the heat of the competitive exam with confidence and complete preparation. We ensure coverage of the entire syllabus within the stipulated time period without compromising on the quality. Our coaching program accumulates detailed learning prospects followed with frequent practice tests and doubts sessions.
Sarkari Exams is the leading brand for CDS entrance examination Preparation in Delhi, Our Study Materials and Test Papers for CDS Exams are updated as per CDS Exams. Now any can Join Sarkari exams who is eligible For CDS Written and SSB Both
Eligibility Criteria for CDS Examination
CDS Branches
Age Limits, Sex and Marital Status
Indian Military Academy (IMA)
For IMA—Unmarried male candidates
Indian Naval Academy (INA)
For Indian Naval Academy—
Air Force Academy (AFA)
For Air Force Academy— 20 to 24 years (Upper age limit for candidates holding valid and current Commercial Pilot Licence issued by DGCA (India) is relaxable upto 26 yrs.

Note: Candidate below 25 years of age must be unmarried. Marriage is not permitted during training. Married candidates above 25 years of age are eligible to apply but during training period they will neither be provided married accommodation nor can they live with family out of the premises

Officers Training Academy (OTA – SSC Course for men
For Officers' Training AcademyJuly,
Officers' Training Academy —(OTA SSC Women Non-Technical Course)
For Officers' Training Academy—(SSC Women Non-Technical Course) Unmarried women, issueless widows who have not remarried and issueless divorcees (in possession of divorce documents) who have not remarried are eligible.
If you want to join the Indian defence system, then you should apply for the upcoming CDS examination. The Combined  Defence Service  (CDS) examination is a national level competitive test for getting admission in any of the defence departments, i.e. the Indian Military, Indian Navy, and the Indian Air Force department. Our CDS coaching in Delhi has prepared many government job aspirants, so you can rely on our quality teaching methods.
Sarkari Exams is the leading brand of India for CDS Coaching in Delhi, We are providing best faculties, Test Series and study materials  for CDS Exams preparation in Delhi, Here you will get free Monthly E-Magazine and 200 MCQs every months for better current Affairs of CDS Entrance Examination preparation. We have online and offline both facilities for CDS test Series  as well as we are also providing free of cost weekly and topics wise test for for best preparation of CDS written Exams in Delhi. Now you can ask for demo classes for see the difference from other Coaching centre of Delhi. Our expertise are unique and rich Experience for CDS test preparation in Delhi. Sarkari Exams is a well known Academy for CDS exams preparation in Delhi, Here you will get free android application for better preparation of CDS Exam by which you can yourself in Indian Defence Academy  of our country.
The coaching classes for CDS in Delhi play a crucial role in effortlessly channelizing the efforts of the students in the right direction. We not only help the students prepare for both the written and interview part, but we also guide them through the relevant exam details like the exam pattern, tips and tricks, and much more.
Our CDS coaching in Delhi is included in the list of top 5 coaching institutes for CDS in Delhi. The Common Admission Test is conducted in an offline mode, and the level of difficulty of each exam section is very high. The experienced teachers that take our coaching classes for CDS in Delhi are experts in their relevant field, and hence they know how to prepare the students for the different competitive examinations.
With our best CDS coaching institute in Delhi city, you can count upon reaching the top position in the competitive world and attain best results. Our experienced and proficient faculty entails into bringing the best in you with correct career guidance and timely updates about the exam and its pattern. We follow an easily accessible, organized and systematic approach to make you reach to your targeted goal.
Eligibility Criteria
CDS Selection procedure
The CDS examinations are conducted by Union Public Service Commission (UPSC).
The selection procedure is consisted of a written exam and personality test by the SSB (Service Selection Board). After final selection, the candidates are sent according to their choice indicated in the application forms and merit list rank, to one of the following institutes for orientation training:
Indian Military Academy (IMA), Dehradun
Naval Academy, Goa
Air Force Academy, Begumpet, Hyderabad
Officers Training Academy (OTA), Chennai
Those candidates joining the first three institutes get permanent commission, however cadets passing out of OTA get short service commission. Unmarried men and women candidates can only apply for the combined defence services.
BEST CDS COACHING IN DELHI
Sarkari Exams monitors every student performance and install necessary measures to update it periodically. Our coaching program not only helps the students in clearing up the entrance but also, puts in hardcore efforts to motivate the students towards serving the Nation with dedication and courage.
Sarkari Exams Coaching Classes is offering special batches to the students for CDS Written Exams Preparation at low cost as well as Free Classes of SSB on Every Sunday at Head Office by retired Forced Officers. Sarkari Exams Coaching Classes provide Monthly Current Affairs MCQs as divided in 4 tests including 50 questions each test it means total MCQs Monthly Question are 200 on Latest Exams Pattern of CDS and Monthly Current Affairs E-Magazine in PDF forms which are totally free on our website and Android App which is also available free on Google play store. Current Affairs are very important for CDS written Exams. Sarkari Exams Coaching Classes is working in the same Educational field of India, it would be great if you could call us for more details for CDS Exams.
Sarkari Exams Coaching Classes are pleased to introduce ourselves to you as a old Brand of India for CDS Exams Preparation in Delhi. Sarkari Exams Coaching Classes is a leading Brand specially for CDS Competitive examinations Preparation in Delhi. We provide the best Section Wise Test Series for CDS Exams curated by ours Experts. The CDS Mock test series are based on the latest pattern and syllabus which give students hands-on experience for appearing in exams of CDS. We have more than 500 test series including Topic wise, weekly and previous years of CDS Examination. These tests increase accuracy and speed of the students to crack CDS Examination. Our Study Materials are up to date as per New pattern of CDS written exams. Now you Google searching is ended here as which is the Best  CDS Coaching in Delhi? Sarkari Exams Coaching Institute Is the Best Coaching Institute for CDS Exams Preparation in Delhi.
How to Apply for CDS?
Candidates are permitted to apply for CDS exam only in online mode from the official website of UPSC i.e. http://upsconline.nic.in/. There is no other mode of application available.
Before apply, it is essentially required to check out the minimum required eligibility criteria.
Applicants are instructed to submit only one application, however under some circumstances, candidates have submitted more than one application then the application with the higher RID should be completed in all its aspects.
Application fee: Rs. 200/- (for General and OBC category). SC/ST and Female category candidates are exempted from paying the fee.
CDS (1 & 2) Written Exam Pattern
Written exam format for admission to Indian Naval Academy, Indian Military Academy, and Air Force
| | | |
| --- | --- | --- |
| Subjects Involved | Exam Duration | Maximum Marks Allotted |
| English | 2 hours | 100 |
| General Knowledge | 2 hours | 100 |
| Elementary Mathematics | 2 hours | 100 |
Written exam format for admission to Officers' Training Academy
| | | |
| --- | --- | --- |
| Subjects Involved | Exam Duration | Maximum Marks Allotted |
| English | 2 hours | 100 |
| General Knowledge | 2 hours | 100 |
 Important Highlights of the Written Exam
All questions will be objective type only.
Question papers of Elementary Mathematics and General Knowledge will be in English as well as the Hindi language.
Candidates must need to write the paper through their own hand. Under no circumstances, they are eligible to get help from a scribe.
No candidates are allowed to use the calculator while answering objective type questions and therefore they are not allowed to bring the same inside the examination hall.
CDS Intelligence and Personality Test Pattern
This will be the second part of the selection procedure which will be an SSB interview. It'll contain two stages i.e. Stage 1 and Stage 2. Candidates qualify the stage 1 exam will be called for stage 2.
Stage 1: It will be an OIR (Officer Intelligence Rating) Test which contains Picture Perception and Description Test (PP & DT). Applicants will be shortlisted as per their performance in QIR test and PP and DT.
Stage 2: This part will consist of Group Testing Officer Tasks, Interview, Conference and Psychology Test. These tests are organized in four days. However, if you'd like to acquire more information you may visit the website i.e. http://joinindianarmy.nic.in/default.aspx.
Why Sarkari Exams?
Regular Classroom by experienced faculty.
Special Weekend classes for weak students
Daily assessments.
Online and offline test series for free.
Timely syllabus completion for bitter revision.
Result from oriented coaching
Study materials
Free Video Lecture.
Free Current Affairs Magazine