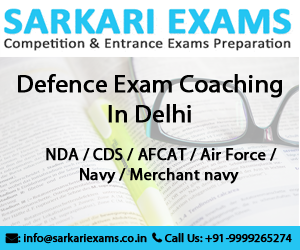 NDA Coaching  Institute in Delhi
What is the NDA & NA Examination? The National Defence Academy also called NDA is a well-known platform for providing training to the three wings of Indian Defence Services known as Indian Army, Indian Navy, and Indian Air Force based at Pune, India.
Sarkari Exams is the leading brand of India for NDA Coaching Centers in Delhi, We are providing the best faculties, Test Series, and study materials for NDA Exams preparation in Delhi, Here you will get a free Monthly E-Magazine and 200 MCQs every month for better current Affairs of NDA Entrance Examination preparation.
We have online and offline facilities for the NDA test Series as well as we are also providing free of cost weekly and topics-wise tests for the best preparation of NDA written Exams in Delhi. Now you can ask for demo classes to see the difference from another Coaching center in Delhi.
Our expertise is unique and rich Experience for NDA test preparation in Delhi. Sarkari Exams is a well-known Academy for NDA exam preparation in Delhi, Here you will get a free android application for better preparation of the NDA Exam by which you can yourself in the Indian Defence Academy of our country.
UPSC conducts NDA entrance exams twice every year. Applicants are selected via a written exam, followed by (SSB) interviews including a general aptitude test, psychological testing, and team skills as well as physical and social skills, along with medical tests.
Admission Criteria for NDA & NA: Admission to the National Defence Academy (NDA) is conducted two times a year through NDA entrance exams, Conducted half-yearly by the Union Service Commission (UPSC). The person getting success in qualifying the NDA entrance with the help of the NDA coaching institute in Delhi undertakes many rounds of interviews, which includes physiological test and group testing followed by a thorough medical examination.
NDA Coaching in Delhi Eligibility Criteria for NDA & NA Examinations
Nationality- A candidate must be either:(a) A citizen of India or(b) a subject of Nepal, or(c) a subject of Bhutan, or(d) Refugees from Tibet who come to India prior to Jan,01,1962 with the objective of permanently residing in India.(e) People migrated from Pakistan, Burma, Sri Lanka, East African countries of Kenya, Uganda, the United Republic of Tanzania, Zambia, Malawi, Zaire, Ethiopia, and Vietnam of Indian origin with permanently settling intention in India. An applicant who belongs to the above said categories (b), (c), (d), and (e) shall be a person whose eligibility certificate has been issued by the Government of India.
NDA Coaching in Delhi Age Limits for NDA & NA Examinations
Gender, Age, and Marital Status:
Age: Applying candidate's age must be between 16.5 – 19 years. Marital Status: Applying candidate must be male unmarried…
Date of Birth Certificate: The date of birth accepted by the Commission as in the Matriculation or Secondary School Leaving Certificate or in a certificate by any recognized Indian University or an extract from a University Register of Matriculate. These extracts from the university should be certified by the proper authority of the University or the Higher Secondary or an equivalent examination certificate.  Not any other certificates like horoscopes by astrologers, affidavits from Notary, birth extracts from Local Municipal Corporation, Employee service records, and the like will be accepted. The DOB entered in the Union Public Service Commission, no change is allowed subsequently (or at any other Examination of the Commission) on any grounds whatsoever.
Educational Qualifications: For admission to the examination, a candidate must have (any one of the following):
For the Army wing of (NDA): 12th Class pass of the 10+2 pattern of School Education or equivalent examination conducted by a State Education Board or a University.
For Indian Air Force (IAF) wing and the Indian Naval Wings of National Defense Academy (NDA) and for the 10+2 (Executive Branch) Course at the Naval Academy: 12th Class pass of the 10+2 pattern of School Education or equivalent with Physics and Mathematics conducted by a State Education Board or a University.
Candidates whose 12th results are awaited or are appearing in the 12th Class under the 10+2 pattern of School Education or equivalent examination can also apply for this examination.
NDA Coaching in Delhi-NDA & NA Selection process
The selection process of NDA & NA will complete in 3 stages
Written examination
Personal Interview (SSB)
Medical review by Command Hospital
The qualified candidates of written examination will be called to attend the personal interview at SSB centers allotted by SSC and then successful candidates will be eligible for Medical review. The personal interview will be scheduled for 5 days. The candidates will be shortlisted and made to do the task.
NDA Coaching in Delhi-NDA & NA SSB Selection stages
There will be 2 stages in SSB- part I & part II. The qualified candidates of part I will be called for part II.
Part I will include officer intelligence rating test, description test & picture perception. The candidates will be selected on the combined performance of all the 3.
Part II will include an interview, group testing officer task, psychology tests & conference.
NDA Coaching in Delhi -NDA & NA Exam Pattern
The question paper will be divided into 2 sections- Mathematics & General Ability sections.
There will be a total of 120 questions scoring a total of 300 marks for the Mathematics section and 150 questions scoring a total of 600 marks for the General Ability Section.
Total marks for the NDA written examination will be 900.
The duration of examination for section I will be 150 minutes and for section II will be 150 minutes.
There will be 1/3rd of the penalty for each wrong answer.
Why Us only-NDA Coaching in Delhi?
Sarkari Exams Coaching Classes is offering special batches to the students for NDA Written Exams Preparation at low cost as well as Free Classes of SSB on Every Sunday at Head Office by retired Forced Officers.
Sarkari Exams Coaching Classes provide Monthly Current Affairs MCQs as divided into 4 tests including 50 questions each test it means total MCQs Monthly Question is 200 on Latest Exams Pattern of NDA and Monthly Current Affairs E-Magazine in PDF forms which are totally free on our website and Android App which is also available free on Google play store.
Current Affairs are very important for NDA written Exams. Sarkari Exams Coaching Classes is working in the same Educational field of India, it would be great if you could call us for more details for NDA Exams.
Sarkari Exams Coaching Classes are pleased to introduce ourselves to you as an old Brand of India for NDA Exams Preparation in Delhi. Sarkari Exams Coaching Classes is a leading Brand especially for NDA Competitive examinations Preparation in Delhi.
We provide the best Section Wise Test Series for NDA Exams curated by our Experts. The NDA Mock test series are based on the latest pattern and syllabus which give students hands-on experience for appearing in exams of NDA. We have more than 500 test series including Topic-wise, weekly and previous years of NDA Examination.
These tests increase the accuracy and speed of the students to crack the NDA Examination. Our Study Materials are up to date as per New pattern of NDA written exams. Now your Google searching is ended here as which is the Best  NDA Coaching in Delhi? Sarkari Exams Coaching Institute Is the Best Coaching Center for NDA Exams Preparation.
We are providing these flowings Coaching Classes  to the students for NDA Examination preparation
 Regular Classroom by experienced faculty.
Special Weekend classes for weak students
Daily assessments.
Online and offline test series for free.
Timely syllabus completion for better revision.
Result coaching classes
Study materials
Free Video Lecture.
Free Monthly Current Affairs Magazine