Delhi Metro Rail Corporation (DMRC) is an Indian Railways Subsidiary working as a local public transport in National Capital Territory Delhi & Few Regions of NCR.
Delhi Metro is a world-class metro service. To ensure reliability and safety in train operation, metro is equipped with the most modern communication system and train control system. Delhi Metro has air-conditioned coaches. Ticketing and passenger entry & Exit are controlled through Automatic Fare Collection System, which is first time introduced in the country. Traveling in Delhi Metro is a pleasure with trains ultimately available at three minutes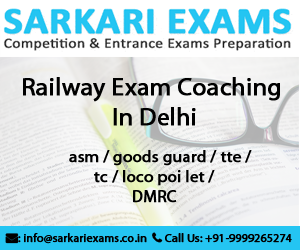 time interval. DMRC coaching institute in Delhi offers a wide scope for the professionals to enroll themselves with the large network base of Metro Rail.
The Unique features of Delhi Metro are its integration with the other modes of the public transport, enabling the travelers to comfortably interchange from one mode to another. Delhi Metro, feeder buses for metro stations are   also Operating. In short, Delhi Metro is a setting a trend for such systems in other cities of the country and in the South Asian region.
Eligibility Criteria: The candidates eligible should be degree/ diploma holders in engineering from any of the above stated disciplines: Electronics/ Electrical/ Civil/ Mechanical of three year duration.
Age Limit: 18 to 28 Years
Nationality : Indian
DMRC Exam Pattern 2017:
SL. NO
Examination Type
Paper
Subjects
Number of Questions
Duration
1.
Objective Type
Paper 1
Hindi/English
General Awareness
Logical Ability
Quantitative Aptitude
Relevant Trade
120
1 1/2 hr
2.
Paper 1
General English
60
45 minutes
Total
180
DMRC Selection Process
DMRC Selection Process comprises various stages as per the posts defined by DMRC. The stages of DMRC selection process is defined below:
DMRC selection process for Assistant Manager
Written Test (2 papers)
Group Discussion
Personal Interview followed by Medical Examination
DMRC selection process for Junior Engineer
Written Test (2 papers)
Personal Interview followed by Medical Examination
Group Discussion– Generally a group of 5-6 candidates are selected in a group and they are given a topic for the discussion. GD is held to check the candidate's ability for the particular post.
Personal Interview – It is a crucial component of DMRC selection process. A candidate may have to face a panel of 4 or more interviewers.The questions asked in DMRC interview range from questions about Personal life, Educational Qualification, Extracurricular activities, work experience, outlook on contemporary issues etc.
DMRC coaching institute in Delhi
Sarkari exams offer DMRC coaching in Delhi and ensure guaranteed success to aspirants applying for a recognized position in DMRC (Delhi Metro Rail Corporation). Our coaching module comes with the well-researched teaching plans molded with interactive study material and practice sessions that help the students with the right direction towards their success goals.
We possess 99% success rate through our coaching institute in Delhi followed with the collaboration of excellent experienced faculty and full coverage performance tracking system followed on every student. We implement complete exam oriented coaching that excels on departing full syllabus coverage within the stipulated time frame.