Sarkari exams offer the most competitive army examination coaching in Delhi to the aspirants and help them in contributing their dedication and courage for the service of the country.
The Indian Army is a land based branch and therefore the largest part of the Indian military. Here in, the President of Republic of India is the Commander-in-Chief of the military. The Chief of staff (COAS), a General, may be a four star commander commands the military.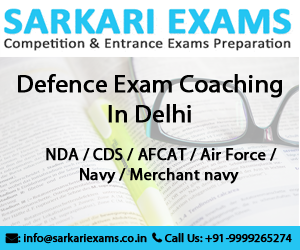 It is the land force of the military of Republic of India and it maintains the third largest war-force within the world carrying well-trained and well-equipped military service, with troop strength of over 1,000,000. Beside defensive the nation's frontiers the military has conjointly obsessed the responsibility of providing internal security. The military has made combat expertise in numerous terrains. Considering India's diversity on this front and also incorporates a distinguished history of serving in United Nations peacekeeping operations, Indian Military has set a special space among the country's regime.
It consist range of Branches and services that recalls for a range of career opportunities that is incredibly wide. Recruitment in Indian Army is done through various Civil Services examinations.
Indian Army Soldier Exam pattern
Sr. No.
Subjects Name
Max Ques.
Max Marks
1
General Knowledge
15
30
2
General Science
20
40
3
Maths
15
30
Total
50
100
Selection Procedure
In this army selection procedure only unmarried male candidates are invited as applicant. They will be selected on the basis of their performance in Psychological tests, Group Tests and Service Selection Board (SSB) interview.
Best Army examination coaching in Delhi
Our army examination coaching institute in Delhi works on the aim to impart quality education incentive to the aspirants and help them in reaching their targeted goal within the detailed timing and with much accuracy and proficiency.
We guide the students through our most experienced and expert faculty, mostly specialized from the same field. We also initiate regular classroom coaching classes for the students which are molded with interactive study material and regular practice sessions to give a complete insight of the upcoming entrance exam faced by the students.
Modes of Entry:
Several different posts are revealed by the Indian Army that recalls for variety of entrance test conducted to pick the most appropriate candidate for the specific posts.
Recruitment of Officers:
National Defense Academy – NDA Examination
Indian Military Academy – CDS Examination
Indian Army Engineering Services Exam – IES
Indian Army Short Service Commission (Non- Technical) – CDS
Recruitment of other Ranks:
Indian Army Soldier General Duty Exam
Indian Army Soldier Technical Exam
Indian Army Soldiers Clerk / Store Keeper Exam
Indian Army Soldier Nursing Assistant Exam
Indian Army Soldier Tradesman General Duties and Specified Duties Exam
Indian Army Surveyor Auto Cartographer Exam
Indian Army Havildar Education
Indian Army JCO Religious Teacher Exam