Best DU JAT Entrance Examination Preparation in Delhi At Sarkari Exams New Delhi
Sarkari Exams is the premier institute offering a deep insight on the BBA entrance exam covering the most prominent questions and topics. We offer Best DU JAT, BBA Entrance coaching in Delhi propounding a comprehensive study material mated with online test series under the strict supervision of experienced and expert faculty.
BBA (Bachelor of Business Administration) is a graduation degree concerning the commerce and business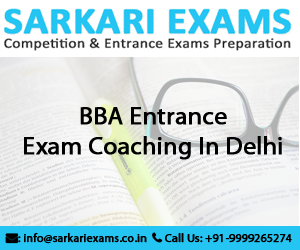 administration that helps a candidate in exploring the vibrant world of corporate culture. The curriculum of BBA, DU JAT Entrance Exams entails into offering the candidate with a deep perspective of company's functional areas.
Sarkari Exams is the leading brand of India for DU JAT Entrance Coaching in Delhi, We are providing best faculties, Test Series and study materials for DU JAT Exams preparation in Delhi, Here you will get free Monthly E-Magazine and 200 MCQs every months for better current Affairs of BBA & DU JAT Entrance Examination preparation. We have online and offline both facilities for DU JAT, BBA test Series  as well as we are also providing free of cost weekly and topics wise test for for best preparation of DU JAT & BBA written Exams in Delhi. Now you can ask for demo classes for see the difference from other Coaching centre of Delhi. Our expertise are unique and rich Experience for BBA & DU JAT Entrance test preparation in Delhi. Sarkari Exams is a well known Coaching Classes for DU JAT Entrance exams preparation in Delhi, Here you will get free android application for better preparation of DU JAT & BBA Entrance Exams by which you can get best University of our country for your bright career in Business management.
We follow the policy of surpassing unique personalized attention to each-n-every student carrying the coaching for DU JAT , BBA entrance.
Admission to BBA/DU JAT Entrance Examination is similar to BSC, B. com. As all are graduation level courses, admission to the course is done on the merit base.
At Sarkari Exams, we specialize in handling the entire course and exam related queries raised by the students. We aim to deliver high quality and result oriented career guidance to the aspirants and prepare them well for the competitive era.
We provide the students with the effective and interactive BBA, DU JAT coaching tutorials that will help the students in clearing the exam with great score. We provide regular classroom sessions along with frequent practice sessions which will depart a close idea of the upcoming exam to the students.
Our coaching classes are accompanied with the regular doubt clearing sessions too that will help the applicants in clearing their doubts then and there. We aim to deliver personalized attention on the weak students to make them scale-able and achieve their aim in life. We also work on personality development issues of the applicants to let them compete against the competitive zone of admission interviews.
Eligibility:
Only those applicants who have passed 12th standard can apply.
Admission will be on merit basis.
Minimum 55% is a must.
Minimum age is 17 years. Some colleges may keep a maximum age limit of 25 years.
Syllabus for BBA Or DU JAT Entrance Examination 
Our BBA, DU JAT entrance coaching institute in Delhi covers complete syllabus of BBA entrance like General Awareness, Quantitative Aptitude, Logical Reasoning, and Verbal Ability & Business Awareness.
Delhi University (DU) conducts Joint Admission Test (DU JAT) for Admission in BBA, BBS and other Courses of DU Colleges in Delhi. DU JAT Entrance is the gate to take admission in Bachelor of Management Studies (BMS), Bachelor of Business Administration in Financial Investment Analysis (BBA), and B.A. Hons Business Economics (BBE) courses. DU JAT  Entrance examination is held by Faculty of Applied Social Sciences and Humanities university of Delhi.
Selection Process For BBA & DU JAT Entrance Exams.
If the candidate chooses to pursue the course through correspondence then there no selection process, except being eligible for the course.
The admission through Entrance Exam culminates into a final evaluation of the candidate on the basis of following:
| Criteria | Weight (%) |
| --- | --- |
| Qualifying Examination | 50 |
| Entrance Test | 40 |
| G.D. & P.I | 10 |
Sarkari Exams provides online test series for all the competitive and entrance exams. BBA Online test Series. Best Coaching Centre For DU JAT In Delhi, Join today Sarkari Exams for best Preparation for DU JAT Entrance Exam.
Leading BBA Coaching Classes in New Delhi, India. Sarkari Exams in Delhi , We are highly expert in DU JAT Entrance Examination Preparation in Delhi. Our faculties and study maltreats are up to date as per DU JAT Entrance Exams, Now any one can join Sarari Exams for DU JAT Entrance Exams Preparation in Delhi Centres.